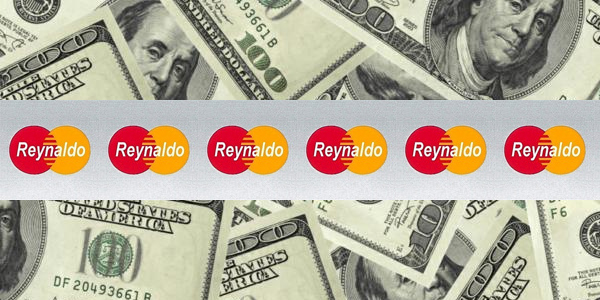 With so many records out there, sometimes it can be difficult to sift through the crap and find the ones that will stir your emotions, hold your attention from beginning to end, and make you proud to own. What can one do to find those special records containing that type of music, you ask? Well, you could browse amazon.com's music section and check out the sound clips, but with millions of releases out there, that method of finding good music is much too random and extremely time-consuming.
You could also make a trip to a record store and spend a hour or more looking through thousands of records, which is fun sometimes–especially when you find good records for cheap–but can still be hit or miss. You could even join a message board for record collectors–at like, say, soul strut.com–and bluntly ask to be informed, but who knows if the information you are getting is the straight dope or an inside joke (it's probably the former, but still).
I personally use all of the aforementioned methods of finding good records and information, but in recent years, as I've had less time to waste and more money to spend, what I've gravitated towards and found especially valuable in my never-ending search, are the websites popsike–which tracks ended eBay auctions–and HYP Records–which is a guide that rates and lists records by genre. I visit those two sites hundreds of times a day to find information about the "value" and 'musical quality' of records I might be interested in buying.
With this guide, I hope to create a singular resource that combines the essential functions of sites like popsike.com and HYP Records, and which can serve as a highly dependable buying guide for up-and-coming collectors. The information I provide is basic: a rating on the scale of 1 to 10, artist name, album title, record label, and the general amount I would pay to acquire the record on eBay or in a store.
It is my belief that a relatively small amount of information from a trusted source is all one needs to make a sensible decision on which records to add to their collection.
Feel free to print this list out, hang it on your wall, and start checking records off as you acquire them. But make sure to check back here from time to time, because I will make periodic and important updates to "the list". Good luck!
My Rating System:
0 = Complete TURD.
1 = Also a turd but the album art is kind of cool.
2 = Five to thirty seconds of brilliance. Yay! Sample away.
3 = One decent track. Ehh.
4 = One HOT track.
5 = A few decent tracks, some crap.
6 = A couple of hot tracks and a couple decent ones; listen before you buy.
7 = Several hot/solid tracks; you probably need this.
8 = Mostly hot; you definitely need this.
9 = Almost perfect; one weak track at most. Buy it now, you fool!
10 = Hot from beginning to end; attain at any cost!
(Also: If you buy an LP on this list on my advice on eBay and it is rated 8 or higher, and you don't like it as much as I suggest you should, and would like to sell it, I will buy it from you at the price you paid if you provide me with a link to the ended auction, proof that you were the winner, and if the record is in the right condition.)
-Reynaldo
Funk/Soul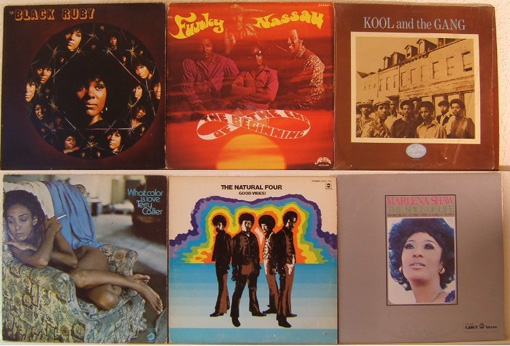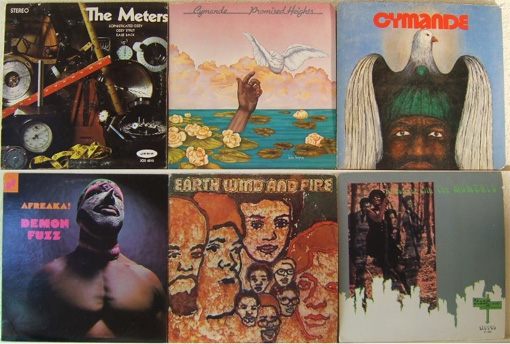 08 >>> 100% Pure Poison: Coming Right At You (EMI); $250+
10 >>> Ruby Andrews: Black Ruby (Zodiac); $150
10 >>> The Lovelites: S/T (UNI); $200+
08 >>> Demon Fuzz: Afreaka! (Dawn; Janus); $150; $100
08 >>> Carl 'Sherlock' Holmes: Investigation No. 1 (CRS); $300
08 >>> Eddie Fisher: The Next 100 Years (Cadet); $75
08 >>> Eugene McDaniels: Headless Heroes of the Apocalypse (Atlantic); $75-$100
08 >>> Eugene McDaniels: Outlaw (Atlantic); $25
08 >>> Freddie Terrell And The Soul Expedition: S/T (Lefevre); $1000+
10 >>> Skull Snaps: S/T (GSF); $250
08 >>> Stefano Torossi: Feelings (Conroy); $300
08 >>> The Chosen Few: In Miami (Trojan); $100
08 >>> The Invaders: Spacing Out (Duane); $500+
09 >>> Turner Bros: Act 1 $500+
08 >>> Wayne Mcghie & The Sounds Of Joy: S/T (Birchmont); $500+
09 >>> The Moments: A Moment With The Moments (Stang); $20
09 >>> Kool and the Gang: S/T (De-Lite); $125+
09 >>> Kool and the Gang: Live at the Sex Machine (De-Lite); $25
07 >>> Al Green: Back Up Train (Hot Line); $30
09 >>> Al Green: I'm Still in Love With You (Hi); $25
09 >>> Al Green: Green Is Blues (Hi); $25
09 >>> Al Green: Call Me (Hi); $25
07 >>> Eddie Drennon & B.B.S. Unlimited: Collage (Friends & C.O.); $30
09 >>> Esther Williams: Let Me Show You (Friends & C.O.); $150+
09 >>> Curtis Mayfield: Curtis (Curtom); $25
09 >>> Cymande: S/T (Janus); $30
09 >>> Cymande: Promised Heights (Janus); $30
09 >>> Donald Byrd: Places and Spaces (Blue Note); $20
09 >>> Donny Hathaway: Live (Atlantic); $15
09 >>> Earth Wind and Fire: S/T (Warner Brothers); $30
08 >>> Eddie Kendricks "People…Hold On" (Tamla); $40
10 >>> Marvin Gaye: Whats Going On (Tamla)
08 >>> S.O.U.L.: What Is It (Musicor)
09 >>> Stark Reality: Discovers Hoagy Carmichael's Music Shop (AJP); $600+
10 >>> Syl Johnson: Is It Because I'm Black (Twinight); $300+
09 >>> Terry Callier: What Color Is Love (Cadet); $100
10 >>> The Meters: S/T (Josie); $75
08 >>> The Meters: Struttin' (Josie); $75
08 >>> The Meters: Look-Ka Py Py (Josie); $75
09 >>> Little Beaver: Party Down (Cat); $30
07 >>> Marvin Gaye: Trouble Man (Tamla); $10
10 >>> Curtis Mayfield: Superfly OST (Curtom); $15
09 >>> Cloud One: Atmosphere Strut (P&P)
09 >>> James Brown: Black Caesar (Polydor)
09 >>> James Brown: The Payback (Polydor)
07 >>> Baby Huey: The Living Legend (Curtom)
09 >>> The Beginning Of The End: Funky Nassau (Alston) $75+
08 >>> Nico Gomez & his Afro Percussion Inc.: Ritual (Omega); $250
06 >>> Magnum: Fully Loaded (Phoenix)
08 >>> Ann Peebles: Straight From The Heart (Hi)
08 >>> Marlena Shaw: The Spice Of Life (Cadet)
07 >>> Lyn Collins: Think (About It) (People)
07 >>> Gordon's War OST (Buddha)
09 >>> The Dramatics: Whatcha See Is Whatcha Get (Volt); $20
07 >>> Chocolate Milk: Action Speaks Louder Than Words (RCA) $20
07 >>> Funk Inc.: Chicken Licken' (Prestige); $30
07 >>> Funk Inc.: S/T (Prestige); $30
07 >>> Fatback Band – People music (Perception)
08 >>> Marva Whitney: It's My Thing (King) $200+
08 >>> Carla Thomas: Memphis Queen (Stax)
09 >>> Nancy Dupree: Ghetto Reality (Folkways)
08 >>> Larry T & The Family: Movin' On (LET)
08 >>> Hot Chocolate: S/T (CoCo): $1000
07 >>> The Counts – What's Up Front That Counts (Westbound); $40
09 >>> Curtis Mayfield – Live! (Curtom)
10 >>> 9th Creation: Love Crime EP (Track); $1500+; very rare
07 >>> Quinn Harris & The Masterminds – All in The Soul (Reynolds); $150
07 >>> Gil Scott-Heron – Pieces of a Man (Flying Dutchman)
06 >>> 1619 Bad Ass Band: S/T
10 >>> Bill Withers: Just As I Am (Sussex) $15
08 >>> Eddie Kendricks: People…Hold On (Tamla); $35
Jazz-Funk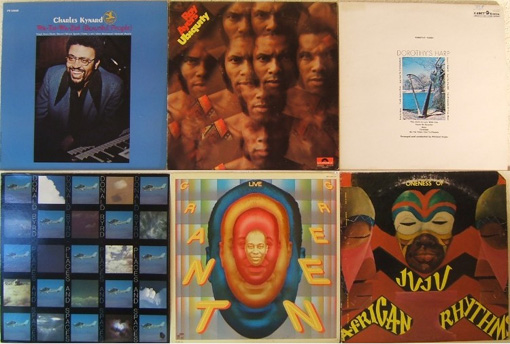 09 >>> Grant Green: Live At The Light House (Blue Note); $30
09 >>> Grant Green: Alive! (Blue Note); $35
07 >>> Grant Green: Green Is Beautiful (Blue Note); $20
09 >>> Charles Kynard: Wa-Tu-Wa-Zui (Prestige); $35
08 >>> Karin Krog: We Could Be Flying (Polydor); $300
07 >>> Dorothy Ashby: Afro Harping (Cadet); $75
09 >>> Dorothy Ashby: Dorothy's Harp (Cadet); $75
09 >>> Dorothy Ashby: The Rubaiyat of Dorothy Ashby (Cadet); $85
08 >>> Cortex: Troupeau Bleu; $500
09 >>> Ananda Shankar: Ananda Shankar and His Music (EMI); $125+
07 >>> Ananda Shankar: S/T (Reprise); $40
07 >>> Steve Kuhn: Live in New York (Buddha); $20
08 >>> Lonnie Smith: Drives (Blue Note); $35
09 >>> Lyman Woodard Organization: Saturday Night Special (Strata) $200+
09 >>> Oneness of Juju: African Rhythms (Black Fire); $75
07 >>> Oneness of Juju: Space Jungle Luv (Black Fire); $60
07 >>> Lou Donaldson: Hot Dog (Blue Note); $30
07 >>> Charles Earland: Black Drops (Prestige); $15
08 >>> Ramsey Lewis: Mother Nature's Son (Cadet); $20
07 >>> Ramsey Lewis: Funky Serenity (Columbia); $5
06 >>> Herbie Hancock: Thrust (Columbia); $5
08 >>> Herbie Hancock: Headhunters (Columbia); $5
07 >>> Gap Mangione: Diana In The Autumn Wind (GRC); $75
07 >>> Heath Brothers: Marchin' On (Strata East); $80+
06 >>> Gene Harris and his Three Sounds: Elegant Soul (Blue Note); $30
08 >>> Donald Byrd: Kofi (Blue Note)
07 >>> Donald Byrd: Ethiopian Knights (Blue Note); $25
07 >>> Cal Tjader: Sounds Out Burt Bacharach (Skye): $15
08 >>> George Freeman: Franticdiagnosis (Bam-Boo); $150
09 >>> Roy Ayers Ubiquity: S/T (Polydor); $75
08 >>> Roy Ayers Ubiquity: He's Coming (Polydor); $75
Straight-Ahead/Spiritual/Free Jazz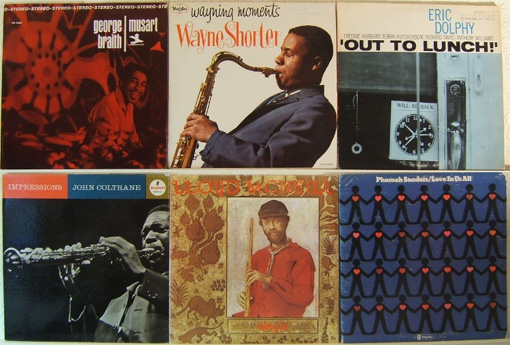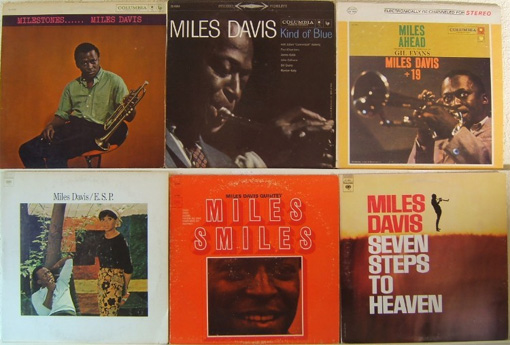 10 >>> Dexter Gordon: Go! (Blue Note); $100+
08 >>> Donald Byrd: Free Form (Blue Note); $50
10 >>> Miles Davis: Seven Steps to Heaven (Columbia)
10 >>> Miles Davis: Kind of Blue (Columbia)
09 >>> Miles Davis: E.S.P. (Columbia)
09 >>> Miles Davis: Someday My Prince Will Come (Columbia)
10 >>> Miles Davis: Miles Ahead (Columbia)
08 >>> Miles Davis: Miles Smiles (Columbia)
08 >>> Miles Davis: Milestones (Columbia)
08 >>> Thelonious Monk: Monk's Dream (Columbia)
10 >>> John Coltrane: Blue Train (Blue Note)
09 >>> John Coltrane: Giant Steps (Atlantic)
08 >>> John Coltrane: A Love Supreme (Impulse)
07 >>> The Frank Cunimondo Trio – Introducing Lynn Marino (Mondo); $100
09 >>> John Coltrane: Impressions (Impulse)
09 >>> Freddie Hubbard: First Light (CTI)
09 >>> Bill Evans: Waltz for Debby (Riverside)
09 >>> Bill Evans: Portrait in Jazz (Riverside)
09 >>> Bill Evans: The Complete Riverside Recordings
10 >>> The Ahmad Jamal Trio: The Awakening (Impulse)
10 >>> Yusef Lateef: Eastern Sounds (Prestige)
09 >>> George Braith: Musart (Prestige); $40
08 >>> Wayne Shorter: Wayning Moments (Vee Jay)
09 >>> Lloyd McNeill: Elegia–for Elizabeth (Baobab); $50
07 >>> Lloyd McNeill: Treasures (Baobab); $50
08 >>> Pharoah Sanders: Love Is In Us All (Impulse)
06 >>> Gary Bartz: Juju Street Songs (Milestone)
07 >>> Gary Bartz: Taifa (Milestone); $35
08 >>> Gary Bartz: Uhuru (Milestone); $35
07 >>> Dee Dee Bridgewater: Afro Blue (Trio)
08 >>> Open Sky Unit: S/T (Duchesne) $400
08 >>> Sun Ra: The Antique Blacks (Saturn)
07 >>> Sun Ra: Lanquidity (Philly Jazz)
07 >>> The Descendants Of Mike And Phoebe: A Spirit Speaks (Strata East); $150
07 >>> Pharoah Sanders: Izipho Zam (Strata East)
08 >>> Pharoah Sanders: Karma (Impulse); $15
10 >>> Lloyd McNeill: Washington Suite (Asha); $200+
08 >>> Eric Dolphy: Out to Lunch (Blue Note)
07 >>> Harry Whitaker – Black Renaissance (Baystate)
07 >>> Eddie Gale – Ghetto Music (Blue Note); $50
08 >>> Charles Mingus: The Black Saint and the Sinner Lady (Impulse)
08 >>> Art Pepper: Meets the Rhythm Section (Contemporary)
09 >>> Hank Mobley: Soul Station (Blue Note)
Rock/Psych/Folk/Prog/Kraut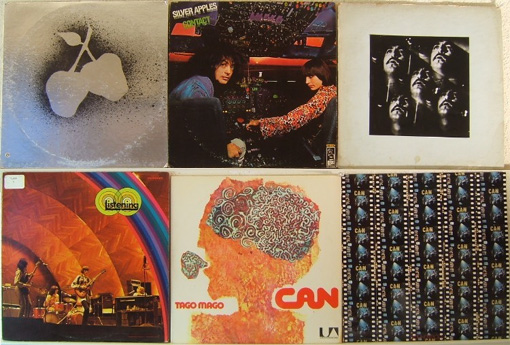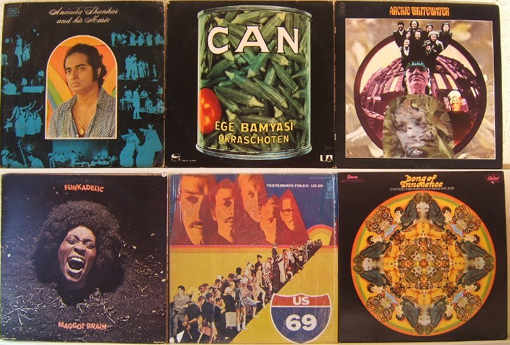 10 >>> Funkadelic: Maggot Brain (Westbound)
10 >>> Can: Ege Bamyasi (UA); $30-$50
10 >>> Can: Soundtracks (Liberty or UA); $50-$100+
09 >>> Can: Tago Mago (UA); $75
08 >>> Can: Future Days (UA); $25
09 >>> Damon: Song Of A Gypsy (Ankh); $2500+
08 >>> Gandalf: Gandalf (Capitol); $200+
10 >>> Laghonia: Glue (MAG); $500+
08 >>> Laghonia: Etcetera (MAG); $500+
09 >>> Maitreya Kali: Apache (Akashic); $100+
08 >>> US 69: Yesterday's Folks (Buddha); $35
09 >>> Listening: Listening (Vanguard); $75+
10 >>> David Axelrod: Songs Of Innocence (Capitol); $75
08 >>> David Axelrod: Songs Of Experience (Capitol); $50
09 >>> Love: Forever Changes (Elektra); 1967; 100+
07 >>> Battered Ornaments: Mantle-Piece (Harvest); $100+
07 >>> Rare Earth – Dreams-Answers (Verve); $30
09 >>> Telegraph Avenue – S/T (MAG); $100
06 >>> Richard Ruskin – S/T (Takoma)
07 >>> Van Morrison "Astral Weeks" (Warner Brothers)
06 >>> Pride: S/T (Warner Bros.); $30
07 >>> Electric Prunes: Release Of An Oath (Reprise); $30
10 >>> Kraftwerk: Man Machine (Capitol)
09 >>> The Beatles: Sgt. Pepper's Lonely Hearts Club Band (Capitol)
09 >>> The Beatles: Magical Mystery Tour (Capitol)
10 >>> Serge Gainsbourg: Historie De Melody Nelson (Philips); $75
07 >>> Les Baxter: Hell's Belles OST (Sidewalk) $100
07 >>> Nancy Priddy: You've Come This Way Before (Dot); $50
07 >>> The Sound of Feeling: Spleen (Limelight); $45
07 >>> The Free Design: Kites are Fun (Project 3); $40
09 >>> Linda Perhacs: Parallelograms (Kapp): $250+
06 >>> Dave Porter: S/T (Private); $75+
07 >>> Gabor Szabo: Dreams (Skye); $15
10 >>> Silver Apples: S/T (Kapp); $60
08 >>> Silver Apples: Contact (Kapp); $45
09 >>> Archie Whitewater: S/T (Cadet); $75
10 >>> Jim Sullivan: U.F.O. (Monnie); $500+; few known copies
08 >>> Tarkus: S/T (MAG) $2000
07 >>> Darius: S/T (Chartmaker) $300+
08 >>> La Revolucion De Emiliano Zapata: Hoy $200+
08 >>> The Velvet Underground: Loaded
10 >>> The Velvet Underground & Nico (Verve)
08 >>> Food: Forever is a Dream (Capitol); $200
10 >>> Azitis: Help (Elco); $700+
07 >>> Relatively Clean Rivers: S/T; $400
08 >>> D.R. Hooker: The Truth; $1000
10 >>> Led Zeppelin: IV (Atlantic)
10 >>> Led Zeppelin: II (Atlantic)
Latin Soul/Brazilian/Afro-Beat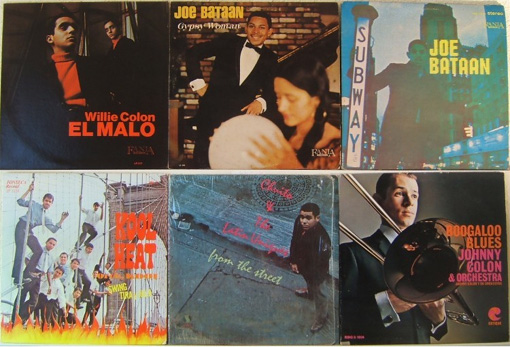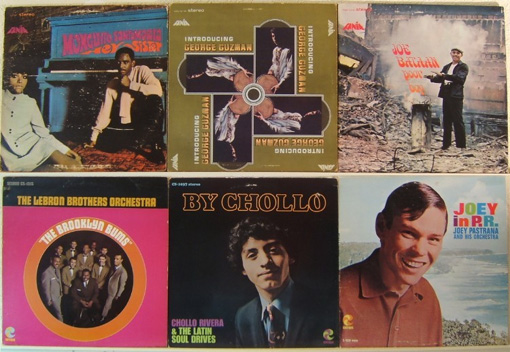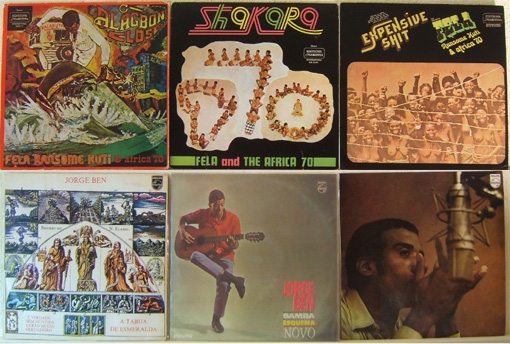 09 >>> Willie Colon: El Malo (Fania); gold label; $75
10 >>> Orchestra Kool: Kool Heat (Fonseca); $75
09 >>> The Lebron Brothers: Psychedelic Goes Latin (Cotique); $50
09 >>> The Lebron Brothers: The Brooklyn Bums (Cotique); $50
09 >>> Monguito Santamaria: Hey Sister (Fania); $100+
10 >>> Joe Bataan: Subway Joe (Fania); gold label; $100+
09 >>> Joe Bataan: Salsoul (Mericana); $30
10 >>> Joe Bataan: Gypsy Woman (Fania); gold label; $100+
09 >>> George Guzman: Introducing (Fania); gold label; $150+
10 >>> Jorge Ben: A Tábua de Esmeralda (Phillips); $30
10 >>> Jorge Ben: Força Bruta (Phillips); $30
10 >>> Jorge Ben: Samba Esquema Novo (Phillips); $50
07 >>> Chollo Rivera & The Latin Soul Drives: By Chollo (Cotique); $75
09 >>> Ray Barretto: Acid (Fania); $100; gold label
08 >>> Johnny Colon: Boogaloo '67 (Cotique); $50
09 >>> Johnny Colon: Bogalooo Blues (Cotique); $50
08 >>> Orchestra Harlow: Heavy Smoking (Fania); gold label; $100
08 >>> Chuito & the Latin Uniques: From the Street (Speed); $100
09 >>> Harlem River Drive: S/T (Roulette); $100+
09 >>> Joe Cain & His Orchestra: Latin Explosion (Time); $50
09 >>> Jack Costanzo & Eddie Cano: Costanzo, Cano & Bongos! (GNP); $40
05 >>> Antonio Carlos Jobim: Stone Flower (CTI); $10; the track "Brazil" is a hot one
08 >>> Joey Pastrana and His Orchestra: Joey in P.R. (Cotique); $40
08 >>> Fela Kuti: Expensive Sh*t (Editions Makossa); $60
10 >>> Fela Kuti: Shakara (Editions Makossa); $60
07 >>> Fela Kuti: Alagbon Close (Editions Makossa); $40
07 >>> Johnny Zamot and His Latinos (Decca); $75
07 >>> Bobby Pauneto: El Sonido Moderno (Mardi Gras); $400
07 >>> The TNT Band: TnT=Dynamite (Cotique); $40
07 >>> The TNT Band: The Meditation (Cotique); $40
07 >>> The TNT Band (TNT Boys): Sex Symbols (Cotique); $40
07 >>> Ray Rodriguez: Introducing Ray Rodriguez (Alegre); $40
10 >>> Gal Costa: S/T (Philips); $50; 1st S/T
07 >>> Milton Zapata: Viva Zapata (Speed); $50
06 >>> Johnny Rivera & The Tequila Brass: Up, Up and Away (Cotique); $40
07 >>> Johnny Zamot: Zamot (Mericana); $60+
07 >>> Johnny Zamot: Tell it Like it is (Decca); $150
09 >>> Monguito Santamaria: On Top (Fania); $150+
09 >>> Ray Terrace: Home of Boogaloo (Tower); $125
08 >>> Joey Pastrano: Let's Ball (Cotique); $60
10 >>> Jorge Ben: S/T (Philips); $50; 1969
09>> > The Bennito Sextet Plus One: S/T (Mardi Gras); $250
08 >>> Bobby Valentin: Young Man With A Horn (Fania); $100+
09 >>> Orchestra Harlow: El Exigente (Fania); $75
07 >>> Johnny Colon: Portrait of Johnny (Cotique); $50
07 >>> Cal Tjader: Along Comes Cal (Verve); $15
08 >>> The New Swing Sextet: The Explosive New Swing Sextet (Cotique); $60
09 >>> Joe Bataan: Poor Boy (Fania); $75+
09 >>> King Nando: Shing-A-Ling With King Nando (Swinger); $75
09 >>> Joe Quijano: The Joe Quijano Party Album (Cesta); $100
07 >>> Ralph Robles: Was Here (Fania) $75+
08 >>> Wille Rosario: Boogaloo & Guaganco (Atco) $15
07 >>> Johnny Colon: Hot! Hot! Hot! (Cotique) $40
10 >>> Ghetto Brothers: Power-Fuerza (Salsa); $400
07 >>> Ray Barretto: Senor 007 (United Artists); $85
08 >>> Lebron Brothers: Picadillo a la Criolla (Cotique); $25
09 >>> The Terrible Frankie Nieves: S/T (Speed); $50
08 >>> Jimmy Sabater: El Hijo De Teresa (Tico); $50
07 >>> Ricardo Ray & Bobby Cruz: In Orbit (Alegre); $40
08 >>> Johnny Pacheco: Canonazo (Fania)
10 >>> Bobby Valentin: Bad Breath (Fania); $200
08 >>> Joey Pastrana: Joey (Cotique); $45
07 >>> Dianne and Carole: Feeling The Pain (Speed); $125
10 >>> Ray Terrace: Oye El Cuchy Frito Man (Jubilee); $250
07 >>> Orquesta Flamboyan: Se Viste De Gala (Cotique); $50
08 >>> Louie Ramirez: Ali Baba (Fania); $200
08 >>> Orchestra Harlow: Heavy Smoking; (Fania); $100
07 >>> Joe Cuba Sextet: We Must Be Doing Something Right! (Tico); $15
06 >>> Francisco Augabella: Hitting Hard