Bruce D. McElheny – For The Record
This is a really solid private press (I think) LP that covers acoustic blues, country & folk territory. All the songs are originals by McElheny and the instrumentation is various combinations of voice, guitar, banjo, electric bass, drums and dobro. Recorded in October 1976 at Bickley Studios, Houston and released on the Buttermilk label, there is not really a lot more I can tell you about this album. Some beautiful songs, a nice laid back feel and an almost ungoogleable artist make for a nice find. Judging by the writing on the cover this was a promo copy sent to Richmond's WRXL late in 1977. Anyone who can give me more information on this LP, please do.
Update: Buttermilk is a small Texas independent label that started in 1970 & released 19 LPs & 32 singles before the label became inactive in 1984. Buttermilk was recently revived (99/00) in Buda, Tx. & is looking to reissue it's archived masters.
This is the only album by Bruce D. McElheny who tragically took his own life a few years after this recording.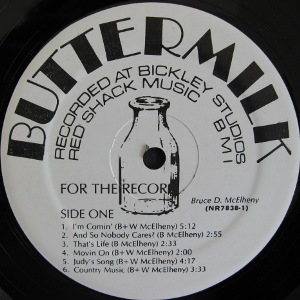 Audio clip: Adobe Flash Player (version 9 or above) is required to play this audio clip. Download the latest version here. You also need to have JavaScript enabled in your browser.