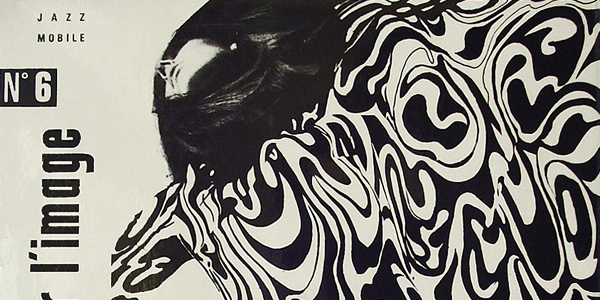 Based in Paris, France, Musique Pour L'Image was founded in 1967 by jazz composer Robert Viger. The label began its operation by issuing 10″ LPs, moving to the 12″ format after its twenty-fifth release. The music included on these records ranges from jazz to childrens to avant garde and experimental (sometimes intersecting each other creating some interesting results).
While the quality of music is certainly recognized as some of the best of librarys' "golden era," it is the combination of these recordings and their stunning sleeve artwork counterparts that makes MPI one of the most desirable of labels for library collectors.
The majority of the early 10″ sleeves were designed by Robert J. Hilton, a man who unfortunately very little is known about. The only other names I've come up with as being credited for these early sleeves are Didier La Mache, Robert Planet and Maurice Ardouin.
The collage work done in the 12″ LP series seems to stand out for me, however there are few in the 10″ series (L'Images en Enfance, by Ardouin in particular) that are truly unlike anything else done in the field of library music. A lot of time seemed to have been spent crafting these sleeves — it's quite interesting (and unfortunate, really) that most of these were left unused an unseen, filed away in the back room of a television studio.
I guess I should point out that this isn't meant to be musical guide to these records, merely a gallery showcasing MPI's cover art from the late 60's into the mid 70's (we're also missing quite a few of their releases so don't take this to be a discography either). Think of this as "part two" of this labels' section in Johnny Trunk's "The Music Library" book.